Contact us by email at:
robertj1966@gmail.com
757 Harris St NW, Concord, NC 28025
(704) 788-4314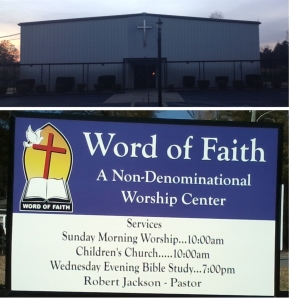 When the Apostle Paul spoke of his ministry, and the ministry of those that he traveled with, he said that it was "… the Word of Faith, which we preach." (Romans 10:8)He went on to explain that the message was that: "… the Word is nigh (near) thee, even in thy mouth, and in thy heart." (Romans 10:8), and "that if thou shalt confess with thy mouth the Lord Jesus, and shalt believe in thine heart that God hath raised him from the dead, thou shalt be saved. (verse 9) For with the heart man believeth unto righteousness; and with the mouth confession is made unto salvation." This is, in essence, the heart of the Word of Faith message… confession of the mouth, and believing with the heart. It is the basis of everything that we receive from God, whether it is salvation, healing, financial blessing, or divine protection. In fact, the Greek words "sozo" (the verb,) and "
soteria
" (the noun,) both mean, essentially, "to be saved, healed, protected, and made whole, spirit, soul, body, financially and socially." This is the "salvation" that confession is "made unto." Believing with the heart and confessing that faith with your mouth, is the key to every area of your life!Word of Faith Worship Center is reaching out to people with the Gospel of Jesus Christ every day through: Home and Foreign missions,Youth Ministry, and Internet Ministry! We are
BLESSED!